Game Info
Overviews
East India Company
Pirate Bay
Privateer
Designer's Cut
Battle of Trafalgar
Collection
Ship Introductions
Designer's Blog
Developer's Video Diary
Modding Instructions-series
Music Player
Feature Screenshot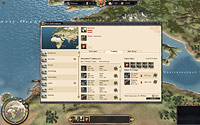 More screenshots »
Modding Instructions

9th October 2009:
Modding part 6.
This time we learn how to translate the East India Company to your own language.
Read more »
Designer's Blog

15th July 2009:
Naval warfare, part II.
Lead designer Kim Soares takes the helm of a frigate and shouts: "Port side, FIRE!"
Read more »
Sign up for EIC Newsletter

Keep yourself posted on the latest news about East India Company.
Email-address:
Sign up for Paradox Newsletter

Sign up for the Paradox newsletter, and get all the news directly from Paradox Interactive.
Email-address: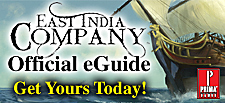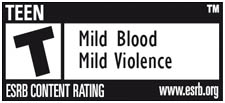 Battle of Trafalgar - expansion

East India Company: Battle of Trafalgar introduces historical ships and commanders in a simulated, larger-than-life struggle for the domination of Atlantic waters in dawn of the 19th century.
Napoleons France was the power to beat and the British were the ones to try. In October 1805 The Franco-Spanish fleet under Admiral Villeneuve met its match off Cadiz, Spain. This was the most glorious of Horatio Nelsons victories aboard the HMS Victory.
Features
Battle of Trafalgar re-enactment from both sides
Ships to historical specs
Five commanders based on historical persons for both sides
Battle groups to command and control numerous ships
Various battle AIs for individual ships reflect actual naval strategy
Availability
Battle of Trafalgar is available for purchase via all major digital download portals. Battle of Trafalgar is an add-on to East India Company and requires the original game to be able to play.