Music Player
Feature Screenshot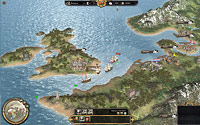 More screenshots »
Modding Instructions

9th October 2009:
Modding part 6.
This time we learn how to translate the East India Company to your own language.
Read more »
Designer's Blog

15th July 2009:
Naval warfare, part II.
Lead designer Kim Soares takes the helm of a frigate and shouts: "Port side, FIRE!"
Read more »
Sign up for EIC Newsletter

Keep yourself posted on the latest news about East India Company.
Email-address:
Sign up for Paradox Newsletter

Sign up for the Paradox newsletter, and get all the news directly from Paradox Interactive.
Email-address: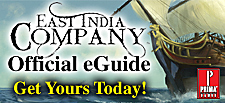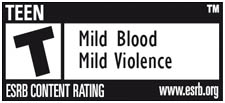 More Nations to Choose From
23rd August 2007

Do we listen to suggestions from the rapidly growing EIC-community? We sure do! We've received many questions regarding the possibility of playing not only as the British East India Company, but companies from other nations too. We are glad to announce that there will be a total of eight nations to choose from!

In addition to the British EIC, we will be integrating equally powerful companies from France, Holland, Denmark and Sweden. You can also choose to play as the Portuguese, Italian or Spanish, leading a trading company from any one of these nations.

Continue to send us your ideas and feedback. We're all ears!

P.S. We'll have some big news for you soon... Stay tuned!
News Archive »