Game Info
Overviews
East India Company
Pirate Bay
Privateer
Designer's Cut
Battle of Trafalgar
Collection
Ship Introductions
Designer's Blog
Developer's Video Diary
Modding Instructions-series
Music Player
Feature Screenshot
More screenshots »
Modding Instructions

9th October 2009:
Modding part 6.
This time we learn how to translate the East India Company to your own language.
Read more »
Designer's Blog

15th July 2009:
Naval warfare, part II.
Lead designer Kim Soares takes the helm of a frigate and shouts: "Port side, FIRE!"
Read more »
Sign up for EIC Newsletter

Keep yourself posted on the latest news about East India Company.
Email-address:
Sign up for Paradox Newsletter

Sign up for the Paradox newsletter, and get all the news directly from Paradox Interactive.
Email-address: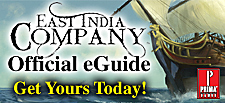 Pirate Bay - add-on

"East India Company did not originally have pirates as a playable faction as we wanted to concentrate on the actual companies. However, we received an incredible amount of feedback from people who told us how much they would love to play as pirates.
It became clear that the best way to implement pirates as a playable faction was to make a separate campaign for them. The best part about the campaign is that you can actually compete against other players and find out who's the best pirate by uploading your points to EIC homepage afterwards."
- Kim Soares, Lead Designer.

Features
Play as a pirate!
Starting out modestly, build up your fleet by commandeering new ships.
Single fleet and captain provide whole new approach to the game.
You have 20 years to hoard as much wealth as you possibly can.
Upload your personal high score to EIC-website to see who's the best pirate of them all!
Availability
Pirate Bay is available for purchase now via all major digital download portals.