Game Info
Overviews
East India Company
Pirate Bay
Privateer
Designer's Cut
Battle of Trafalgar
Collection
Ship Introductions
Designer's Blog
Developer's Video Diary
Modding Instructions-series
Music Player
Feature Screenshot
More screenshots »
Modding Instructions

9th October 2009:
Modding part 6.
This time we learn how to translate the East India Company to your own language.
Read more »
Designer's Blog

15th July 2009:
Naval warfare, part II.
Lead designer Kim Soares takes the helm of a frigate and shouts: "Port side, FIRE!"
Read more »
Sign up for EIC Newsletter

Keep yourself posted on the latest news about East India Company.
Email-address:
Sign up for Paradox Newsletter

Sign up for the Paradox newsletter, and get all the news directly from Paradox Interactive.
Email-address: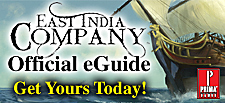 Privateer - expansion

Privateer is expansion for the hit naval strategy title East India Company. East India Company: Privateer introduces players to a dark and mysterious world with allegiances only to fortune and a thirst for destruction.

Privateer enables whole new angle to this successful game: Players operate their own fleets commanded by merchant or privateer captains. Having limited time at their disposal, players try to accumulate as much wealth as possible by any means they can.

Privateer is much more mission oriented than the original game, giving completely new playing experience within the familiar setting. As an "entrepeneur" without allegiances, player is free to engage in missions like smuggling, blockading ports and hunting down ships with diplomatic envoys.
Features
Two Privateer campaigns for different time periods.
Battles against formidable forts.
Two new multiplayer modes: Breakthrough and Beehive.
New mission oriented gameplay and loads of new missions.
More than 10 new skills like False Colors, Infiltrate and Smuggle, specifically designed for privateer commanders.
Introducing new specialists characters like surgeon, cook, constable and marine officer to boost the abilities of your fleets.
Availability
Privateer is available for purchase via all major digital download portals. Privateer is an add-on to East India Company and requires the original game to be able to play.